Trusted by thousands of users!
Below are some of our key features.
Virtually Undetectable
Unwanted visitors will never see any redirects, so they won't suspect that they are being blacklisted. Unlike other filtering platforms, we do not use any common identifiers in the URL (e.x. "go.php?clid="), so your traffic filtering stays undetected.
Build Custom Blacklists
Our platform is so flexible that our tests can adapt to any traffic! We have massive, up-to-date databases for popular blacklist requests. Need to filter something less popular? User our interface to easily collect data (or import your own) to blacklist.
---
Collaborative Blacklists
Benefit from the synergy of an enormous user base! Our system gets more accurate at catching unwanted visitors as we process an increasing number of clicks.
Premium Databases
We always use paid databases to more accurately detect your visitors' information. This saves you thousands of dollars per month in database subscription fees!
---
Extremely User-Friendly
Want to enable filtering on your existing campaigns? It takes just a minute in our interface, and copying/pasting one line of HTML code!

You don't need to download or install anything, and no technical knowledge is required.
Block Spy Tools & Competitors
Stop affiliates and spy tools from finding your campaigns by filtering them! Our databases are constantly updated to keep your campaigns safe!
Flexible, Innovative Tests
We have all the standard filtering tests (location, IPs, user agents and referrers) plus:
Proxy/VPN filtering
Organization/ISP filtering
Desktop user blacklists (for mobile campaigns)
Dynamic token testing
Uncommon ISP filtering
Geo "exceptions" (ex. "Allow" only United States, "except" those in Los Angeles)
We support custom tests, and have "add-ons" for less frequently requested tests. Want a test that we don't already have? Just contact us and we'll add it for you!
---
Bleed Rate Breakdown
We give you a detailed breakdown of how many clicks are getting filtered and why.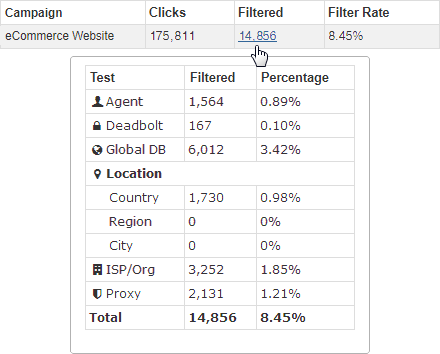 Competitive Pricing
As low as just $0.0008 /click. Full pricing
here
.
---
Stable, Fast Infrastructure
We have optimized our entire platform for speed and stability. Redirects are super fast (essential for mobile campaigns), and your valuable clicks won't ever get dropped!

Backup servers automatically activate if our primary data centers ever fail.
---
Use Your Own Domain
Maintain full control of your traffic and maximize stealth by using your own domains!
---
2 Quick Steps To Enable Filtering
1. Fill in your settings: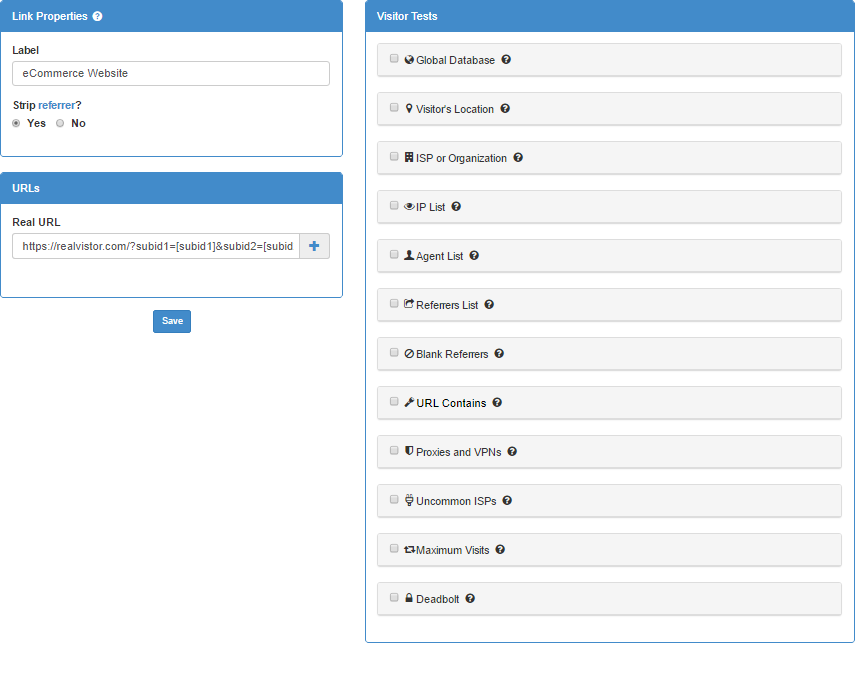 2. Insert the Integration Code into your Page: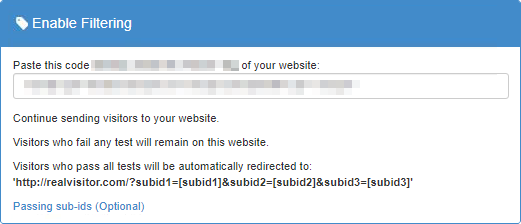 Filtering is now enabled!
---
Unparalleled Support
We're always happy to help if you have questions or run into issues. Live support is available 24/7 to answer any questions immediately. During emergencies, sending an email to a dedicated address rings an alarm on our phones, so we rush to respond.
---
Detailed Visitor Logs
Fully searchable, detailed logs of all your clicks!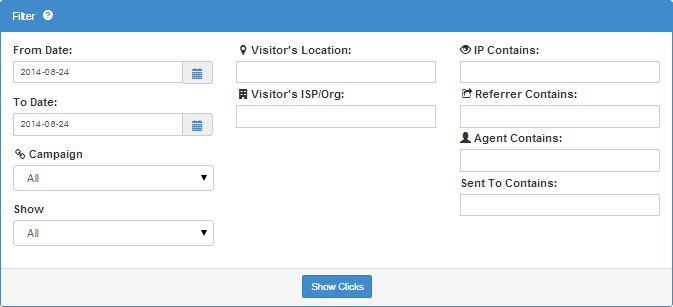 Ready to propel your business to the next level?